About the Journal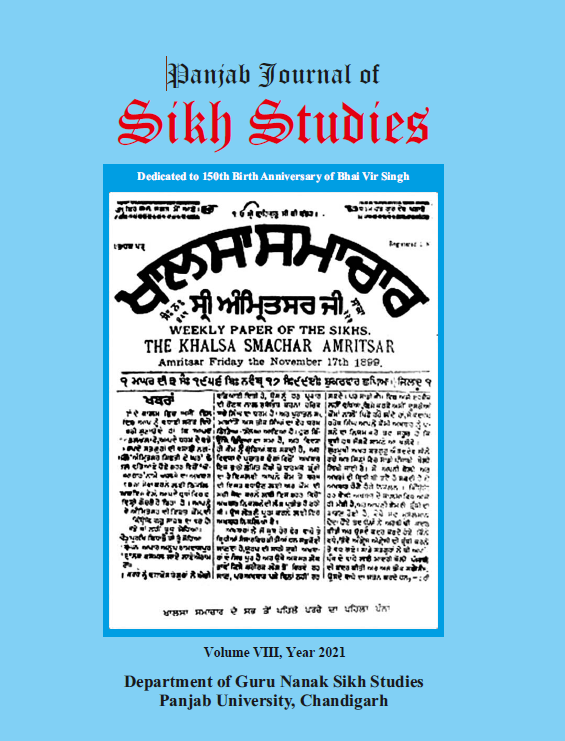 PANJAB JOURNAL OF SIKH STUDIES

A Refereed Research Journal which addresses research to all areas of Sikh and Punjab Studies publishes under Chief Editorship of Professor Gurpal Singh Sandhu Academic Incharge Department of Guru Nanak Sikh Studies. Since its inception Panjab Journal of Sikh Studies has carved a niche for itself in the field of academics and research. We have received an immense encouragement in the form of response from the scholars as well as from researchers. The Journal is bilingual a yearly refereed research publication addressing research in diverse area of Sikh and Punjab Studies Its interdisciplinary scope is comprehensive enough to cover various aspects ranging from religious, literary, social, cultural, political, economic and contemporary issues. While its focus is the region of Punjab, it includes writing on Sikh and Punjabis lying in other parts of the word as well. The Panjab Journal of Sikh Studies welcomes articles that are interdisciplinary in nature and deal with recent advancements in research of different subjects. The Journal also aims at promoting the work of young scholars in the field of Sikhs and Punjab Studies. It provides an opportunity to both faculty and students to produce insightful research at the local and regional level which adds new dimensions to existing state of knowledge.

The Editorial board consists of Professor Reeta Grewal, Professor Sheena Pall, Professor Gurpreet Kaur and Dr. Jagtej Kaur Grewal- as members of the editorial board. This board also obtains the advice and support of the Advisory Committee, which consists of eminent scholars working in the areas of Sikh and Punjab studies in various disciplines. All articles are independently and confidentially refereed.

Till Now Eight issues of the journal have been published with a Special volume of research articles on Guru Nanak Dev Ji's 550th Birth Anniversary. and on Guru Tegh Bahadur Ji on his 400th birth anniversary. The present issue is dedicated to150th birth anniversary of renowned Punjabi poet and Sikh scholar Bhai Veer Singh Ji.

We are extremely grateful to the contributors for providing extensively research articles. We are greatly indebted to our Vice Chancellor Professor Renu Vig for her constant, support and inspiration in this endeavour. We feel gratitude to the referees for their expertise and generous cooperation, department's official staff Mr. Rupinderpal Singh and Prince Kumar providing valuable support and above all good efforts of Mr. Jatinder Moudgil, Manager, Panjab University press for skillfully publication.
---
Contact Us:

Chief Editor
Department of Guru Nanak Sikh Studies
Guru Tegh Bahadur Bhawan,
Sector- 14, Panjab University, Chandigarh-160014
Phone : 91-172-2541887,2534337
E mail :